Diplom-Medienwirt Sascha Skudelny (M.A.)
Wissenschaftlicher Mitarbeiter Kontikat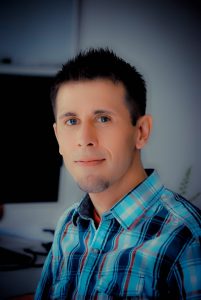 Büro: US-G 006
IFM– Institut für Medienforschung
Unteres Schloss / iSchool
Kohlbettstr. 15 / Siegen Oberstadt
Tel.: +49 (0) 271 / 740 – 3351 (office)
Fax: +49 (0) 271 / 740-1-3351
E-Mail:skudelny@ifm.uni-siegen.de
IMT– Institut für Mikrosystemtechnik
Faculty of Science and Engineering
Dept. Electrical Engineering and
Computer Science
Tel.: +49 (0) 271 / 740 – 4440 (lab)
Cell: +49 (0) 163 / 640 – 4050 (mobil)
E-Mail:sascha.skudelny@uni-siegen.de
Aktuelle Projekte
KONTIKAT Forschergruppe (Continuity Management)
Forschungsfokus: Vunerabilität, Obsoleezenz, Disruption techn. Infrastrukturen und Komponenten (Kontinuität & Resilienz von betrieblichen / gesellschaftlichen Prozessen)
Krisen und Schadensereignisse können das gesellschaftliche Leben und wirtschaftliche Prozesse erheblich beinträchtigen. Dabei muss es sich nicht um Katastrophen handeln. Auch der regionale Ausfall von Telekommunikationsanlagen über Stunden oder Tage kann bereits weitreichende Folgen haben. Im Fokus des Projekts KONTIKAT steht die Aufrechterhaltung und Wiederherstellung des gesellschaftlichen Lebens nach größeren Schadensereignissen und Katastrophen. Hierzu sollen empirische Studien zur Erfassung der sozialen Vernetzung der Bevölkerung sowie von kleinen und mittleren Unternehmen durchgeführt werden. Die Ergebnisse tragen dazu bei, die Selbstorganisation, Hilfeleistungen und Notfallkommunikation in Krisensituationen zu fördern.
Warnung und Alarmierung der Bevölkerung
Aufbauend auf den Erkenntnissen vonBaSiGo,SiKommundInfoStromsowie in stetigem Austausch mitKOKOShat das Projekt die Entwicklung und Erprobung neuer Warn- und Alamierungskonzepte zum Ziel. Ein zentrales Kriterium ist es dabei, möglichst viele Bevölkerungsgruppen unserer multikulturellen Gesellschaft zu erreichen und ein in der jeweiligen Situation angemessenes, resistentes Handeln zu motivieren.
Für eine korridorweise Warn- und Alarmierungsbeschallung im Krisen- und Katastrophenfall konzeptioniert und implementiert das IMT mobile Demonstratoren auf Basis der Ultrasound-Technologie (Norris 2004; Pompei 1999), die zur Beschallung der Bevölke-rung eingesetzt werden können. Das System besteht aus Ultraschalllautsprechern (American Technology Corporation: "HSS HyperSonic Sound"; Massachusetts Institute of Technology / Holosonics: "Audio Spotlight"), die einen Schallstrahl aus moduliertem Ultraschall erzeugen. Modellhaft können bestimmte Szenarien (z.B. Explosionen) mittels Multiphysics von COMSOL simuliert und Einflussfaktoren exploriert werden, um die optimale Anordnung bzw. Handhabung im Einsatz der Ultraschalltechnologie zu determinieren.
Weiterführende Links: Sicherheitskommunikation.org , auditive-sicherheit.org , sonotopograpfie.de
Das vom Bundesministerium für Bildung und Forschung mit 1,8 Millionen Euro geförderte Projekt "Unterstützung der Kooperation mit freiwilligen Helfern in komplexen Schadenslagen (KOKOS)" entwickelt Methoden, technische Konzepte sowie IT-Werkzeuge, um die Öffentlichkeit (Bevölkerung, Vereine, Verbände, Unternehmen) als aktiven Partner in das Krisenmanagement einzubeziehen und eine Kooperation anzustreben. Die beteiligten Wissenschaftlerinnen und Wissenschaftler untersuchen von Mai 2015 bis April 2018, wie bereits vorhandene gesellschaftliche, wirtschaftliche und zivile Strukturen in die Bewältigung größerer Krisenlagen (u.a. auch bei der Flüchtingshilfe) sinnvoll einbezogen werden können.
Im Fokus des Forschungsprojekts InfoStrom steht die technische Unterstützung der interorganisationalen Zusammenarbeit und organisationsübergreifenden Wiederherstellungsarbeit im Falle eines Stromausfalls. Alle Technologien, Konzepte und Methoden zur Verbesserung interorganisationaler Kommunikations-, Informations- und Koordinationsprozesse werden in Zusammenarbeit von der Universität Siegen, Frauenhofer FIT, PSI Transcom, RWE, SAP Research und mit den Kreisen Rhein-Erft und Siegen-Wittgenstein entwickelt und evaluiert.
Vita
Sascha Skudelny ist wissenschaftlicher Mitarbeiter am IFM – Institut für Medienforschung und der iSchool der Universität Siegen.
Er studierte Medien-Planung, – Entwicklung und -Beratung an der Philisophischen Fakultät der Universität in Siegen und
Humanmedizin an der Medizinischen Fakultät der Philipps-Universität in Marburg und promoviert interdisziplinär am
IMT – Institut für Mikrosystemtechnik der Naturwissenschaftlich-Technischen Fakultät (Department Elektrotechnik & Informatik), welches Mitglied im "Center for Micro- and Nanochemistry and Engineering" (Cµ) sowie im mst-Netzwerk Rhein-Main ist und mit der Chinesisch Deutschen Technischen Fakultät (CDTF) an der Qingdao University of Science and Technology (QUST), P.R. China, kooperiert.
Seine Publikations- und Forschungsschwerpunkte liegen im Bereich Sicherheitskommunikation, akustischer Sicherheitstechnologien sowie
Prozess- und Kommunikationsmodellierung komplexer Systeme, User Experience/Usability Design und Social Media Analysis/Social Network Analysis. Neben journalistischen Erfahrungen im öffentlich-rechtlichen als auch privaten Rundfunk verfügt er über mehrjährige Hörfunk- sowie Filmspraxis im Wissenschaftsjournalismus, insbesondere Medizin-Journalismus, sowie der Übungs- und Einsatzdokumentation von Krisen- und Katastrophenszenarien bei Behörden und Organisationen mit Sicherheitsaufgaben. Er ist ausgebildeter Medientrainer der Landesanstalt für Medien, Inhaber einer Rundfunksendelizenz in NRW und UAV-Pilot,
Dozent für UX & UID (Typographie & Farbenlehre) an der Naturwissenschaftlich-Technischen Fakultät, Elektrotechnik & Informatik und Lehrbeauftrager für digitale Medienproduktion am Zentrum für Kommunikationstechnologie sowie im Kompetenzzentrum Siegen.
Durch verschiedene Forschungsprojekte im Bereich des Krisenmanagements verfügt er über ausgewiesene Fachkenntnisse im Bereich der Kommunikationsstrukturierung und -analyse sowie der Bürger- und Unternehmenskommunikation und -adressierung in komplexen Schadenslagen.
Publications
2021
2020
2019
2017