Marios Mouratidis, M.Sc.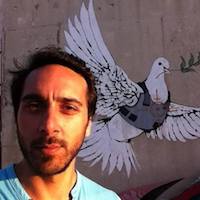 Marios.Mouratidis(at)uni-siegen.de
Raum: US-D 103
Telefon: +49 (0) 271/ 740 – 4535
Vita
Marios Mouratidis studierte Literary, Cultural and Media Studies mit Language and Communcation im Nebenfach (B.A.) und Human Computer-Interaction (M.Sc.) an der Universität Siegen. Seit anfang 2020 ist er wissenschaftlicher Mitarbeiter am Lehrstuhl CSCW und soziale Medien in dem von EU und Land NRW geförderten Zentrum für Smart Production Design.
Sein Forschungsinteresse liegt im Bereich Partizipation, Maker Methodologien, digitale Fabrikation, Innovation und come_IN Computer Clubs, unter anderem in Palästina. Er verfolgt qualitative Forschungsansätze.
Während seines Studiums konnte er sich als studentischer Mitarbeiter in verschiedenste Forschungsprojekte der Lehrstühle Wirtschaftsinformatik und Neue Medien und CSCW und Soziale Medien einbringen.
Ab 2016 fokussierte er seine Arbeit auf Feldforschung in Palästina und koordinierte das DAAD geförderte Projekt YALLAH! You All Are Hackers , wo er Studierende in kleinen Forschungsprojekten rund um soziale Innovation betreute und qualitative Forschungsmethoden für empirisch basiertes Design vermittelt hat. Er koordiniert seitdem die Forschungsvorhaben des Lehrstuhls Wirtschaftsinformatik und Neue Medien in Palästina und arbeitete außerdem im BMBF geförderten Projekt PiHub und im EU geförderten Projekt Fostering Entrepreneurship in Science, Technology, Engineering & Math (FESTEM). Mit seiner Masterarbeit "(Un-)Sustainable ICT-interventions in occupied Palestine" verfasste er eine Fallstudie in der er aus 9 Jahren Forschungsdaten um come_IN Computer Clubs in Pälistina resümiert und Faktoren für nachhaltige IKT-zentrierte Communities untersucht hat. Vor und während seinem Studium hat er Freiberuflich im Bereich Medien Design (Web, Print, Mobil) und Game Design gearbeitet.
---
Projekte
SMaP (EFRE, 2018- heute)
Fab Lab Siegen
FESTEM (2018-heute)
PiHUB (2019)
YALLAH You All Are Hackers (DAAD, 2016-2018)
come_IN – Interkulturelles Lernen mittels computergestützter Projektarbeit

Publikationen
2020
2019
2017
2016