Marios Mouratidis, M.Sc.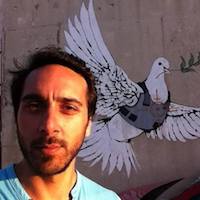 Marios.Mouratidis(at)uni-siegen.de
Room: US-D 103
Phone: +49 (0) 271/ 740 – 4535
Vita
Marios Mouratidis studied Literary, Cultural and Media Studies with Language and Communication as a minor subject (B.A.) and Human Computer Interaction (M.Sc.) at the University of Siegen. He works as a research associate at the chair of CSCW and Social Media in the Center for Smart Production Design funded by the EU and the state of North Rhine-Westphalia.
His research interests include participation, maker methodologies, digital fabrication, innovation and come_IN computer clubs in Palestine. He pursues qualitative research approaches.
During his studies he was able to contribute as a student assistant to various research projects at the chairs of Information Systems and New Media and CSCW and Social Media. From 2016 on, he focused on field research in Palestine and coordinated the DAAD funded project YALLAH! You All Are Hackers, where he supervised students in small research projects around the framing of social innovation and lectured qualitative research methods for empirically based design. Eversince, he coordinated the research projects of the Chair of Information Systems and New Media in Palestine and also worked in the BMBF-funded project PiHub and in the EU funded project Fostering Entrepreneurship in Science, Technology, Engineering & Math (FESTEM). His master thesis "(Un-)Sustainable ICT-interventions in occupied Palestine" is a case study summarizing 9 years of research on come_IN computer clubs in Palestine and investigated factors for sustainable ICT-centered communities. Before and during his studies he worked as a freelancer in media design (web, print, mobile) and game design.
---
Projects
SMaP (EFRE, 2018-today)
Fab Lab Siegen
FESTEM (2018-today)
PiHUB (2019)
YALLAH You All Are Hackers (DAAD, 2016-2018)
come_IN – Intercultural learning using computer supported projectwork

Publikationen
2020
2019
2017
2016