Fab Lab Siegen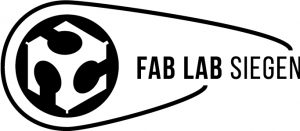 Timeline: Since 2014
Support & Finance: University of Siegen and regional partners
Coordination: Oliver Stickel, M.Sc.
Fab Lab Siegen is a transdisciplinary creative laboratory for collaborative work and experimentation, mainly on the (co-)creation of things and products. It is currently run as a (research) project at iSchool Siegen with the goal of developing into a sustainable and stable regional infrastructure and part of the global network of Fab Labs.
Fab Lab Siegen provides and facilitates infrastructure and services to multiple university chairs and departments, NGOs, companies as well as to the general public which can also access and use the lab. Infrastructure provided includes general lab space and tools, a wide range of 3D printers, electronics, laser cutting, CNC milling capabilities, sewing machines as well as social, office, kitchen and storage space and others. Services include safety and infrastructure management, fundraising for infrastructure and service development, community coordination and management, workshops, lectures and seminars, commissioned projects, research, individual support and others.