Graduate School Sustainable Managing Entrepreneurs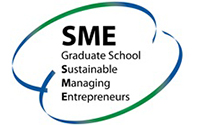 Duration:
since 2016
Sponsorship: Universität Siegen
Contact person: Dr. Christian Reuter (Coordinator)
The SME Graduate School is part of the School of Economic Disciplines (Faculty III) of the University of Siegen and was established in 2016. It is built on the experiences of the Research School Business & Economics (2010-2013).
The GradSchool focuses on sustainable SME Management, Family Business and German Small and Medium-Sized Enterprises ("Mittelstand") from different perspectives (such as business administration, economics, information systems)
The GradSchool offers combined Master and Doctoral courses designed to prepare students for successful, research-oriented careers in the field of SME Management.
The idea is to enable students to start research after their bachelor degree parallel to their their master studies, to gain first experiences (paper writing, presentation) be prepared for a Ph.D. afterwards.
Further information on http://www.wiwi.uni-siegen.de/sme-gradschool/